The metaphorical manure hit the air-movement device this week, and now we have the self-appointed Twitter police oiling up the censorship stick.
Unsurprisingly, as this is the Internet, and some people are nasty, bigoted, small-minded little pricks, Caroline Criado-Perez, who'd led a campaign to put Jane Austen on the £10 note, got some very unwelcome (and completely unacceptable, lets not forget that) attention.
She got rape threats. Just think about that for a moment, and think about the sort of dreadful person that does that. It's the Greater Internet Fuckwad Theory in full effect, or, if you prefer Online disinhibition effect. Some are under the impression the Internet means you can say what you like, free from reprisals: it does not.
This is not a new thing: Usenet, which to this day remains fairly anonymous (with posts only being traceable by IP address, and therefore only with the cooperation of an ISP or NNTP server admin) has been "enriched" by this for many, many years now. It remains a throwback to the old days, with all that entails. Anyway, back to the point.
Something Must Be Done, the world cried.
Then, magically, it was.
was detained in the Manchester area on suspicion of harassment offences.
Sounds like a great idea. Someone makes threats, they get a visit from the Old Bill. Seems like a good way to deal with a criminal act, huh?
Not good enough. We must #takebacktwitter.
The calls are in for a Report Abuse button. These are pretty common on web forums, and newspaper sites, like, say, The Guardian's Comment is Free.
Ok. Let's look at problem 1, handily suggested by @Greg_Callus:
Greg's on the money with that: the moderation load of even a smallish, well-behaved web forum can represent a lot of work.
Just think about that for a moment. Twitter is a free service, so I doubt it can afford hordes of moderation staff. So perhaps we could automate it?
Then think that you might post something someone disagrees with. Lets say that you express a political view: nothing illegal, but something that sparks controversy: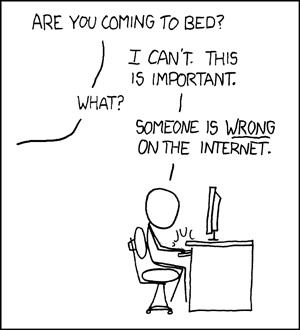 and a few people who hold an opposing view get all the people they follow to hit the abuse button. Suddenly, you've been silenced. This is why user-trained spam filters fail too: users categorise mail they don't like as spam, when it isn't.
One final thought: just like the porn debate, we're blaming a transport medium:
When the problem lies with people. Bitter, small-minded people. These people need challenging, but the challenge needs to be intelligent and reasoned, not a knee-jerk reaction that would cripple the social media network. Hey, if only we had laws against threatening behaviour, then we could do something.
[edit]
Found this rather fine post
by Lilian Edwards, Professor of E-Governance at Strathclyde University.